Choir Player prices
The Choir Player app is free-of-charge. You simply download it from the App Store or Google Play.
The app comes with a free song for you to experiment with.
There are then two options for using Choir Player going forwards. If you just want to use Choir Player for yourself then you can simply purchase songs individually. These are priced at £1.99 for songs with a simple piano backing track and £2.99 for songs with a full band.
If you are a choir leader and want to use Choir Player for your choir then you'll want to take out a subscription. The subscription will give your entire choir access to your repertoire of songs so that they can practice at home. And of course you can use Choir Player in your rehearsals and performances. You don't pay extra for songs when you have a subscription. These are included in your monthly membership fees.
Why have a Choir Player subscription?
Choir Player is designed to make your life as a choir leader much simpler. It's functions save you time and stress whilst making rehearsals (and at-home practice for choir members) a dream.
Choir Player leaves you hands-free to work with your choir members without the need to play piano yourself. With the phone app in your pocket you can move around your rehearsal space pausing and repeating song sections as you go – you can even slow sections down as well as isolate and mute song parts. You can mix and adjust each vocal part so that your members can hear exactly what they are supposed to be singing.
Your subscription gets you at least 10 songs per term that you select from our portfolio.
How much does a Choir Player subscription cost?
The price of a subscription is calculated based on three elements:
The number of members in your choir
The number of songs you are using during the subscription period (these are included as part of your subscription)
The number of weeks you want a subscription for (typically the length of your term/semester)
For example, a choir of 20 members using 10 songs over a 10 week term will cost £40 – just 20p per member per week. Increase the number of members to 25 and it is £50, increase the term length to 12 weeks (25 members) and the cost is £60.
To calculate how much membership would be for your choir head over to the Choir Portal. You'll first need to create a (free) account. Click on Subscription where you'll see a subscription calculator which you can adjust to suit your needs. We've shown a couple of examples below.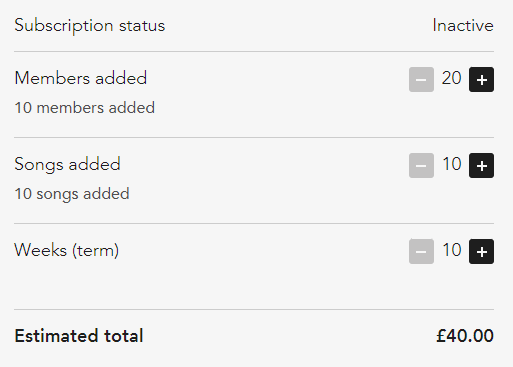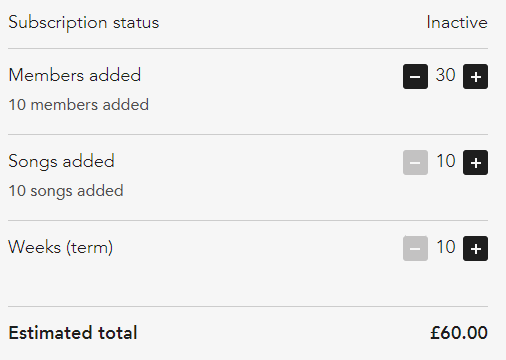 You can increase the size of your subscription at any time so feel free to start low and increase as your choir size or repertoire increases.
The number of songs you have is spread across all your choirs and you can swap songs out and change choir members without additional charge.
How do I sign up?
Head over to the Choir Portal and create a free account. Click on Subscription in the top nav to get to our subscription calculator. Play around with the number of members, number of songs and term length and you'll not be charged until you are ready to start.
This video takes you through the process of signing up and setting up your choir(s):